Smart Living Soup Maker - Unidem Sales Inc.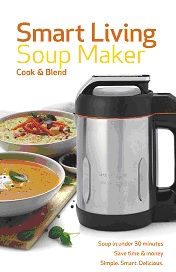 Booth: 13
8-1288 Ritson Rd. N. Box 240

Unidem Sales Introduces the Smart Living Soup Maker a must for all kitchens! With the Soup Maker you can have your Soup, cooked and blended; ready in less than 30 minutes, smooth or chunky. It's ideal for dietary restrictions. The Smart Living Soup Maker makes it quick and easy to make homemade soup to your own individual taste, with minimum fuss. Place the ingredients for your favorite recipe inside your Smart Living Soup Maker, then it's as simple as selecting either the smooth or chunky soup setting, depending on your preference. Whether it is soup as a meal or an appetizer you will love the very quick and easy results! While your Smart Living Soup Maker blends and gently cooks the ingredients for perfect homemade soup, you can check it's progress on the digital interface with countdown timer. The Smart Living Soup Maker has a stylish design with a 1.6 litre capacity.